Hot Octopuss seek to hire male sex toy tester. Are you game?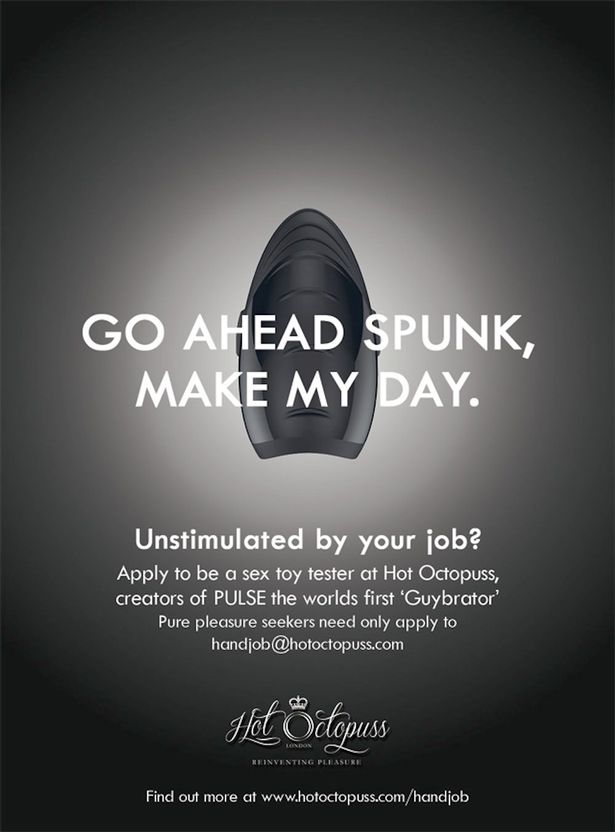 Here's an
interesting job
for those of you males in search of some extra discretionary income and what one imagines to be some overt stimulating experiences.
It comes by way of
Hot Octopuss,
a
British
company said to be at the cutting edge of next generation of sex toy design. For men.
Explains the UK's mirror:
They've already come up with 'the world's first guybrator' and now they want (in their words) a 'part-time orgasm engineer' to help test their new range of male products.
What do you think lads? Are you game?
The job advertisement specifically tells that the job will be a stimulating one (we bet) with its own particular 'ups and downs' as they seek to test new products.
Continues the mirror: Successful applicants will be sent prototype sex toys to review on a regular basis and will have to report back on their 'experience.'
They say benefits include being allowed to work from home whenever the mood takes you:"or anywhere in the world for that matter – maybe just not in public."
A less than tasteful online ad also says the successful candidate will earn 'a great package' and be provided with a lifetime supply of tissues.
Ideal applicants include those gents aged 18 plus '"with good stamina and able to handle pressure"
Isn't it time you handled the next generation of male pleasure in your very hands too?