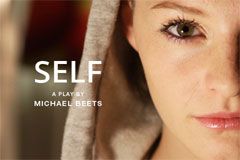 Swedish designer brand LELO sponsored "SELF," a multimedia theater production staged in Shanghai.
Tuesday, Jul 1, 2014
Text size:
STOCKHOLM — Swedish designer brand LELO sponsored "SELF," a multimedia theater production staged in Shanghai.
The brainchild of Australian/South African director Michael Beets and sponsored by LELO, "SELF" marks the first-ever transmedia production to stage in the People's Republic, where audience-members were required to use their own smartphones during the play as part of the performance itself.
Since the last showing earlier this month, "SELF" has prompted strong reactions from Chinese netizens and audience members, the company said, noting the high usage of Internet throughout China, with the average time spent on social media clocking in at around one hour daily compared to approximately 39 minutes/day among North Americans. Additionally, 90 percent of Chinese internet users have at least one social media account, compared to 67 percent in the U.S.
LELO's endorsement comes as part of its UnDesign Award 2014, the company said, which challenges creatives to explore new ways of building connections in all their forms. The concept is further explained in
a video-interview with Michael Beets
that is being shared by LELO as inspiration for UnDesign Award entrants.
Described by the director himself, "SELF is 'a one-woman show about trust, friendship and betrayal on an online platform called 'Social'. It is the first ever smartphone-complemented theater presentation to ever take place in China, with audience members' devices playing an integral part in the story."
After downloading an app specially made for the production, the viewers' device becomes a supporting actor in the play by streaming video, images and audio that the female lead interacts with on stage.
Of the theater production and its connection to LELO's UnDesign Award, LELO Global Marketing Manager Steve Thomson said; "By using media and technology not as a distraction, but as a means to add a whole new level of depth, Michael's play 'SELF' encapsulates the inspiration behind the 2014 LELO UnDesign Awards, which seeks to embolden connections between individuals with technology as a tool and not a barrier."
Director of 'SELF' Michael Beets said, "'SELF' is a theater production that challenges people to rethink their connections with people. It was also a fascinating creative experiment, and the fact so many people are talking about it, whether good or bad, is the most satisfying aspect of all. It's an honor to see 'SELF' promoted as part of the 2014 UnDesign Awards, and I am looking forward to seeing how creatives worldwide propose to bring people together in similarly non-traditional ways."
Entry to the LELO UnDesign Award is open until Aug. 1, while everyone is free to sign up as a judge via www.lelo.com/award.
more,,,