Description: The Zero Tolerance Intro to Cunnilingus Kit with Instructional DVD. Experience the most amazing oral sex of your life. This oral sex kit includes: • Dr. Ava's Guide to Oral Sex Cunnilingus Segment DVD • Vibrating oral tickler • Zero Tolerance Oral Sex Candy flavored spray • 2 tips for getting and giving ultimate cunnilingus instructional deck • Vibrating tongue/finger ring. (Package Of 7)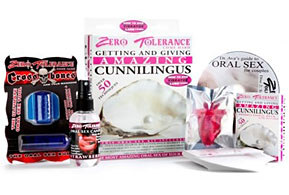 I have had this box sitting on the shelf since I came to work at the popular adult boutique Zone D Erotica. I have never sold one. In good intentions to learn the product in hopes to sell a few, I dedicated a Tuesday night to this little package. I laughed and laughed and then invited friends over and we laughed some more.
For a 30 something adult this is very sophomoric and down right scientific. Honestly it was so basic I would not have an issue as a parent if they showed it in my son's sex ed class. That being said, if you have never given a woman an orgasm through oral sex, this may be for you.
It comes with a few toys that I personally feel take away from the intimacy of tongue on flesh. However some people need a little more oomph in their slurp. If you can make her wet by just the anticipation of your Aussie kisses (down under) then do not bother with the how to and just get down to the how to -do it right now! If you are a beginner or trying it on a same sex partner for the first time, get this kit.
I can tell you many an occasion before I met my husband where the foreplay was so bad it never heated up the engine enough to take the car for a spin.

I think anyone entering into a sexual relationship with a woman should mandatorily be forced to study the art of cunnilingus.

Will this product taech you the misteries of the clitorious making you a sex god to all women, yeah probably not. Will studding the ins and outs of oral gratification make you and your partner much closer and happier, you better believe it.